Since more than 50 years ago our family works on Ceramic Art and pottery in Florence, Italy, and our kind of shop is called "bottega artigiana".
As there is no an English word to exactly explain what a "bottega artigiana" is, we will be pleased to describe you what it means: a "bottega artigiana" is a special workshop for production by craftsmen with a family management. In our "bottega artigiana" during years we learnt how to develop our artistic job in a very meticulous way.
Historically, the period of "botteghe artigiane" started in Florence during 1.200; than, in 1.400, master Luca della Robbia made them better known and guided them throught their maximum splendour. And based on that model, our "botteghe artigiane" grew till reaching those days.
Each of our manufactured artistic article is made with the most rigour, handed down from father to son, during our more than 50 year experience. We reproduce ancient handmade articles and we make them identical to the original one, by using the same kind of clay and glaze, and by giving special attention to their ageing.
We can be so accurate thanks to the fact that we are also restorer. Consequently, by restoring manufactured, we had the chance to deepen go into the Italian original Majolicas and Ceramics Arts, studying and learning about them.
Our manufactured are strictly handmade, using plaster mold or lathe, painting with glazes and paints composed in our "bottega artigiana", applying special patinas. The above mentioned qualities give to our articles a special and inimitable "italian taste".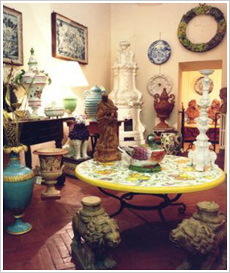 On demand we can also produce modern ornaments and furnishings, even with customer's design. We are proud of our exposition gallery and of our collection of more than 3.000 different artistic articles, in order to offer to our customers an infinite choice among: plates, jugs, stoves, tiles, vases, pots, pitchers, tureens, holy ornaments, fruit wreaths, animals, etc. Surfing our pages you will find just a very small part of what we can offer but we can send more details by e-mail. Please, set yourself free to get in touch with us for any questions or more informations.